Savoir-faire
Lambertine collections are imagined, created and designed in France. They are unique designs developed by the craftsmen jewelers via hand modeling or 3D visualization steps to bring the design to life. There is no assembly of existing products in this creation process.

Lambertine jewelry is inspired by styles that have crossed time and do not belong to a single season. Jewels are made in small quantities in order to take advantage of an artisanal know-how and a sustainable manufacture. Small series are regularly put back in stock and the back in stock alert allows to appreciate the quantities to be produced. The manufacture of jewels remains artisanal and manual, it is thus necessary to leave a little time to our craftsmen before your preferred jewel comes back.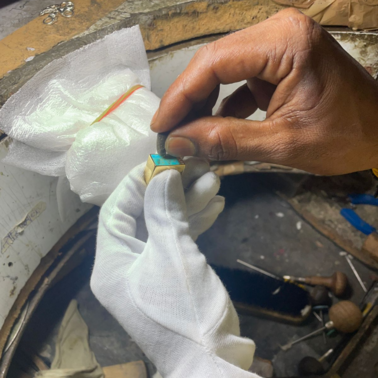 The choice of the manufacturing workshops is made according to the design of the jewel, the association of materials and especially according to the know-how and specializations of the various jewelers.
The Lambertine collections are manufactured in a sustainable and ethical way in Jaipur, cradle of a traditional craft industry around the cutting of gemstones and the jewelers' know-how.